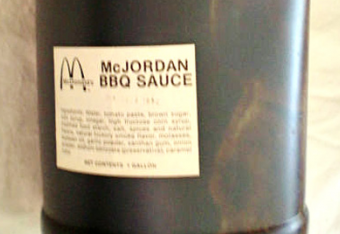 The Village Voice named John Brown's Smokehouse as 2012's Best BBQ in NYC. I'm proudly serving as their Resident Whole Hog Expert.
A jug of BBQ sauce named after Michael Jordan sold for $10,000
Full Custom BBQ reviews Sam's Bar-B-Q and wasn't too fond of being served 3 day old brisket.
Obsessive Compulsive BBQ makes a California Tri-Tip with Virginia flair!
Marie Lets Eat reviews Daddy D'z in Atlanta, GA and discovers that BBQ pork and chimichangas can come together in an unholy alliance.
Jesse Black, maker of the thermapen, talks about his experience at this year's American Royal Competition.
The Meatwave celebrates his final gluttonous cook out of the season and because one rasher of bacon is for sissies, he roasts an entire side of porkbelly in a porchetta.
Serious Eats examines the exotic Appalachian style BBQ found in Bluff City, TN. Notes -- The hams at Ridgewood come from nearby Bristol, Tennessee. When they arrive at the restaurant, they're smoked for nine hours, then rubbed with spices and chilled overnight. The next morning, they are shaved into thin, white slices. As customers arrive for lunch and dinner, the kitchen warms piles of shaved ham on a flat-top grill out front. Handfuls of ham are coated with barbecue sauce and piled on sandwiches or plates for customers.